Aqua Zone has one of the largest fleets of emergency water treatment equipment, ranging from sea water and brackish water desalination plants, filtration plants, wastewater plant, chemical dosing plant and other ancillary plant to compliment any emergency full turnkey. Our plant is strategically located to service an international market and to ensure rapid deployment to meet the demands of fast track projects. With a range of sizes and technologies, Aqua Zone has the solution to meet all temporary water and wastewater treatment requirements.
In addition, Aqua Zone offer Desal Now – a range of large capacity emergency water treatment solutions ready for immediate deployment, up to 150,000m3/day.
To ensure the highest water quality and reliability, similar technology to that of Aqua Zone turnkey and wastewater projects is utilized for the rental fleet.
There is a range of sizes and options for mining, energy, construction, petrochemical, municipalities and general industry. When required, rental solutions include Aqua Zone's 24/7 monitoring system with skilled operators & engineers.
Aqua Zone has also appointed preferred partners in Sigma Water and ZI-Chem to service the SE Asia regions as well as to ensure our rental assets can be deployed anywhere globally.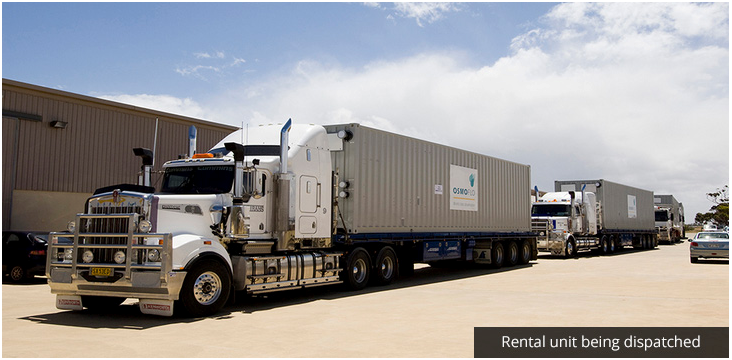 Reverse Osmosis Rental Fleet
Immediate Delivery
APPLICATIONS
Aquazone's emergency water and wastewater solutions are ideally suited to a variety of applications to meet a range of short, medium or long term or situations:
Any emergency water needs (breakdowns, increased demand, planned and unplanned maintenance, changes in water quality, disasters
Capacity increases during high production periods.
Events where brackish water needs upgrading to potable water.
Back-up during critical periods, plant upgrades and drought conditions.
Improved water quality; adding to an existing system for polishing to a higher quality.
Environmental needs; dewatering to meet regulatory discharge requirements.
Range of Equipments
All systems can be modulized for changing capacity requirements. Plants can deliver from 5kL/day to 50,000 kL/day or greater if needed.
Aquazone's emergency water fleet provides a range of brackish water and seawater systems, with pre-treatment, post treatment and demineralization options to deliver fit for purpose water. Aquazone also provides a range of wastewater treatment which includes MBR systems.
Service and Support
With a team of highly experienced Service Technicians, located across our geographic markets, Aquazone delivers timely on-site support.
With over 20 years of experience in water and wastewater treatment Aquazone can bring a level of expertise and process know-how to on-going support in the following ways:
• A technical support team of highly trained individuals who specialize in finding solutions to challenging water problems
• Pilot testing of water if required
• Regular maintenance schedules by our expert Service Technicians
• 24 Hour remote monitoring via Plant Connect
• Extensive range of chemicals and consumables to compliment the plant.
Rapid Plant Mobilization
To ensure your rental plant is delivered in time to meet your needs, Aquazone works closely with you to ensure all pre-delivery site work is ready for emergency mobilization, delivery and commissioning can be completed within 24 hours of order confirmation.
Project Examples